Village
Singpur Village Preaching:
Kanpur Temple Brahmacharies Padmanabh Pradumnya Prabhu and Aradhna Prabhu have started village preaching since 2011. Since then there have been 30 Devotees chanting Hare Krishna. 18 of them have become dedicated to chant 16 rounds while others are chanting 5-6 rounds of Hare Krishna Mahamantra- the yuga dharma for the age of Kali.
Programs are held every Sunday from 7.45 am to 9.00 am. These devotees have a special liking for bhajans and ashtakams like Guruashtakam, Sad-Goswami ashtakam, Dashavtara Stotra, Gurupuja etc. The program constitutes bhajans followed by discussion. There is prashadam distribution for all the villagers. They come on Sundays and festivals, helping deity department, making garlands, washing vessels, bring flowers from the farms, etc. Every day some families come to temple for visit. They also serve in emergencies where devotees are required for services.
All these villagers are eager to serve Sri Sri Radha Madhav and contribute to Their Lordships service enthusiastically in festivals. They volunteer for the daily flower seva for the deities. Daily they plug flowers from the farms free of cost. In the last 'flower holi' festival, they plucked petals from 2000 kilo of flower.
There is a special plan for Vrindavan Yatra, Barasana, Nanda Gaon, raval for these village devotees in near future.
---
Youth
Boys Preaching wing of ISKCON Kanpur has been training and educating youth community since a couple of years and thousands of students have participated in different courses. It also has a couple of youth hostels in kanpur close to the colleges like IIT Kanpur and HBTI for offering the following training program to empower the modern youth.
Personality Development and Character Build Up
Training the students in the application of philosophy, values and principles in their personal life.
Rising early, sleeping early, morning mantra meditation, GD and interactions.
Training in etiquettes, manners and proper behavior to be followed while living in society.
Training in dealing with equals, juniors, seniors, elders in the family, parents, teachers.
Training in integrity, truthfulness, simplicity, trustworthiness, non-envy, maturity, humility etc.
Training in self-excellence skills like giving presentations, conflict resolution, empathic listening etc.
Yoga, Meditation and Nutritious Diet
Vibrant health, peaceful mind, and satisfying loving relationships are essential for a life of quality.
People poison their digestive tract with meat, alcohol, drugs, sleeping pills and junk-food.
The purpose of food is to increase the duration of life, purify the mind and aid bodily strength. At At the Youth Centers, the students get Prasadam, sanctified lactovegetarian sanctified diet. It is wholesome, nutritious, satisfying and nourishing to body and soul.
Training in Character and Competence.
Use Arts, Culture, Music and Media to propagate the message of Wisdom literatures.
Creating a class of wise people who respect, trust and love each other.
Use talents for propagating love of God and love for all, based on word of God.
Distributing spiritual literature at subsidized prices.
Training in Science of God, etiquettes and behavior, prayer and practices.
Mantra Meditation
Modern man filled with fear, tension, anger, defensive attitude etc leading to stress.
The adrenaline hormone secretion leads to disorders like indigestion, back pain, blood pressure rise etc.
Mantra Meditation is a powerful tool to alleviate stress and attain peace of mind.
It provides one inner strength, patience, tolerance, vigor, confidence, power to make decisions etc.
Students regularly perform mantra meditation and lead cheerful stress-free lives.
Topping in Academics
Spirituality and Academics are given equal importance for students.
During JAN/FEB/MAR and APR/MAY/JUN, the students study 10-13-16 hours per week.
They fill Study cards and report to their Counselors for perusal and subsequent instruction.
The alumni student or professor devotees help the younger students by coaching.
For a devotee student, his college studies are not material. It is Krishna's service.
Public Speaking and Discussion (PSD)
Students are trained how to deliver lecture presentations.
They are taught to face challenges from the audience without losing temper.
They are assessed on the basis of ten criteria and room for improvements are offered to them.
A seasoned preacher gives clarifies all the lingering misconceptions.
Team Playing and Synergising
Group Discussion Camps (GDC) teaches the students to work cooperatively in a team.
They learn to value others opinions, to pool up the talents of many, to be confident etc.
They prepare one of their team members to give a presentation, make a display, put up a skit etc.
Devotional Qualifications
They are trained in cooking, cleaning, washing, worshiping, performing arati.
Singing, playing instruments like mridanga, kartals, harmonium.
Purchasing things from market, handling accounts, managing different departments like kitchen, etc.
This foundational training is greatly helpful now and in the future.
Personal Care and Counseling
Every student has a Counselor who acts in his life as a Philosopher, Friend and Guide.
He answers the student's questions and shares his experiences.
He helps him tackle physical, mental, and spiritual problems and trains him to face future challenges.
The counselees fill up a sadhana card that acts as a report card filled up by the candidate.
The Counselor-counselee meetings are held fortnightly or monthly to bring about a family atmosphere.
Other committees that extend their help — marriage bureau, placement committee, etc.
---
Congregation Preaching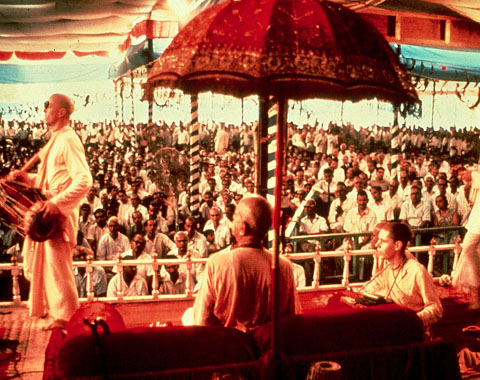 To systematically teach the books of His Divine Grace A.C.Bhaktivedant Swami Srila Prabhupada regular Satsang Programs are held on weekly basis.
These Satsang Programs include following items:
| | |
| --- | --- |
| Kirtan | 10 min |
| Bhagavad Gita sloka recitation | 10 min |
| Discussion on the sloka | 45 min |
| Question and Answer session | 15 min |
| Japa/Kirtan | 10 min |
| Announcements | 5 min |
| Prasad Distribution | 15 min |
Presently three such programs are performed, and their details are as follows:
Host
Speaker
Address
Phone
Day & Time
Bhakta Vikas Gupta
Ramnitai das
Barra – 2, Kanpur
97930 61858
Saturday, 4.00 PM to 6.00 PM
Yashoda Mataji (Mrs. Kanta Arora)
Prema Harinam Das
J K Temple Road, Pandu Nagar, Behind Candy Floss Preschool
0512-3240282
Friday, 4.30 PM to 6.30 PM
ISKCON Temple Govind Giridhari Prabhu
Ramnitai Das
Sri Sri Radha Madhav Temple, Mainavati Marg, Bithor Road
86041 18224,
98076 86236
Sunday, 4.00 PM to 5.30 PM