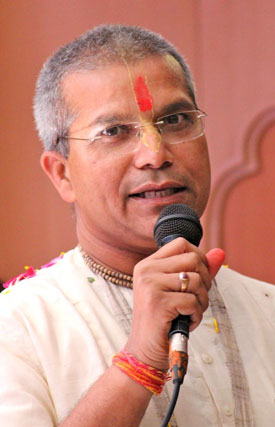 Resting on the banks of the River Ganges is "Kanhapur"—the city of Lord Krishna—presently known as Kanpur. Before going to the West, Srila Prabhupada had preached actively in Kanpur. In 1970, when Srila Prabhupada came back to India along with his Western disciples, Kanpur was on his mind. He requested his disciples to establish an outstanding ISKCON temple here and hold massive festivals to benefit the people. Srila Prabhupada expressed his motivation for such a center. "It is for the interest of the entire humanity that I am trying to implement the science of Krishna, which will actually make them happy. So it is the duty of every devotee of Lord Krishna to help me by all means."
Srila Prabhupada requested his disciples to give Rs. 50 000, a sizeable amount in those days, to build the ISKCON center at Kanpur. But it was almost thirty years later, after he left this planet, that his wish was fulfilled. In 2005, Smt. Veena Bhatnagar, mother of the then Commissioner Amita Bhatnagar, visited the ISKCON temple in Boston, USA and was highly impressed with the magnificent Deities and the high standard of temple services. Consequently, she wanted to establish an ISKCON temple in Kanpur. Thus she generously donated five acres of land and requested that the Deities of the temple be named Sri Sri Radha Madhavji.
Four years later, in 2009, on Vasant Païcami, the doors of a temporary but attractive temple beholding the exquisite Deities of Sri Sri Radha Madhavji opened to the citizens of Kanpur and India. An ashram accommodating 35 brahmacharies, a guesthouse with 8 rooms and a goshala with 20 cows were also built. But . . . we are still far from reaching our goal. We recently acquired an additional five-acre land and we are looking forward to build a glorious temple for Sri Sri Radha Madhavji that will cost Rs.50 crore. This temple will be for one and all—jana mandir.
The Kanpur project has set up a Radha Madhav Committee that is immensely active and supportive. The committee has taken up the responsibility to assist in all ways and build the temple. The world famous architect Sri Premnath, who is based in Mumbai, has designed the temple, and we are at present awaiting the necessary government approval to start the construction. We hope to complete the project within two-and-half years. We are striving hard to provide this devotional facility for the residents of Kanpur and create a spiritual haven for them. I am looking forward to all your support.